These are my winter decos for QD. They were inspired by my favourite rubber stamp, which, incidentally, I should use more. I own less than twenty of them, I think, and I never use any of them.
The background is water colour paper painted blue and then collaged over with white rayons tissue, white mulberry paper, and two types of blue unruyu paper. Then I mixed some blue interference paint with some matte medium and coated both backgrounds. Since I couldn't see as much of the interference paint as I would've liked, I added some straight interference paint. You can see it best on one of the dark blue bits on the deco to the right. I used acrylics to paint the bare tree to the right and ink ro draw the trees on the other deco. My new favourite ink colour is Winsor and Newton peat brown.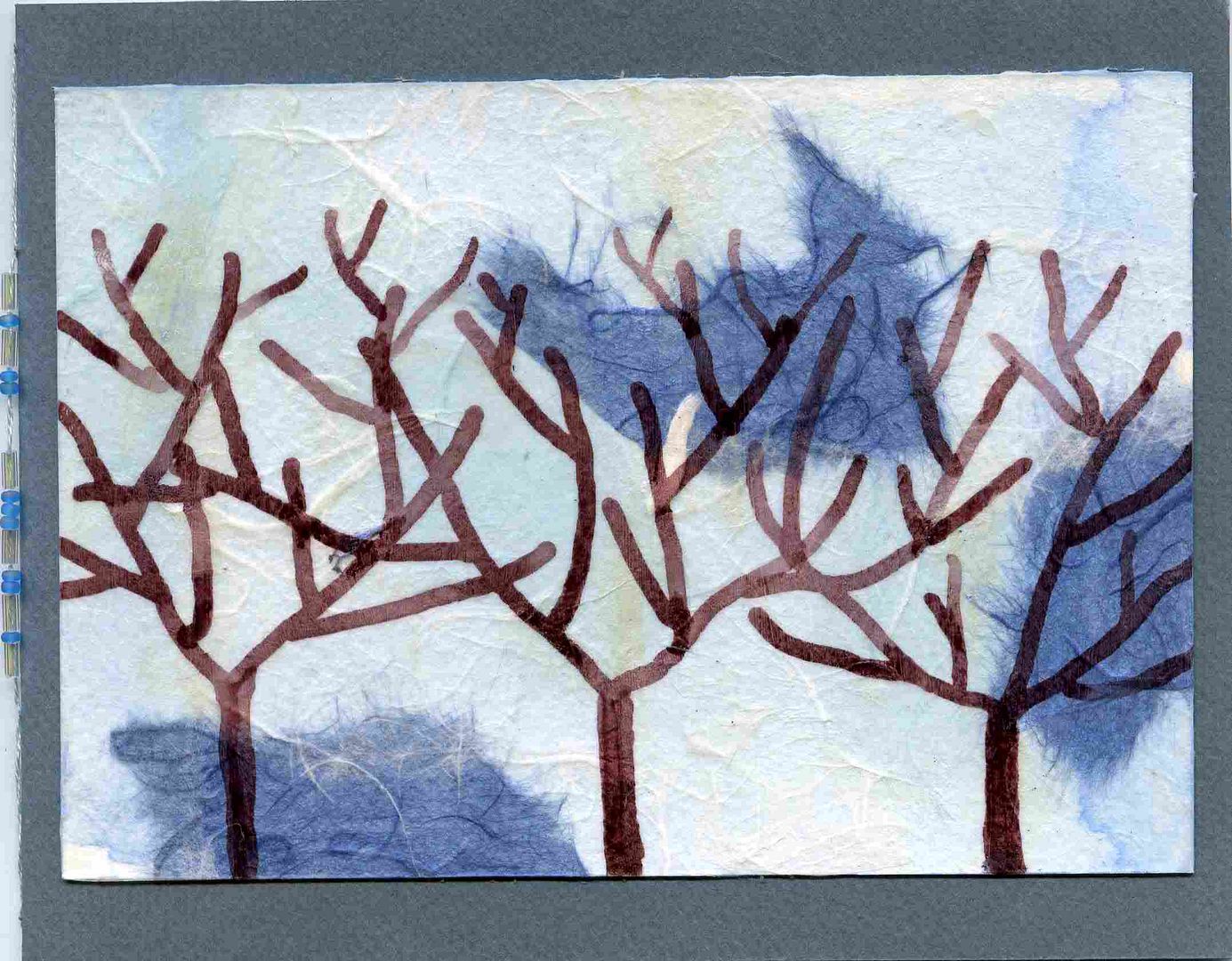 On Friday I decided to buy a 250 mL tub of matte gel medium instead of a 500 mL tub because I figured that we would never be able to use 500 mL of matte gel medium. Based on the amount of medium used this weekend, I'm a dumb arse. This sucker's going to be gone in another week. And that's before Ptichka ever lays hands on it.
I've been working on a fantastic creature deco for an upcoming RR. This means that I've been sitting and drawing half-fish, half-something else creatures over and over and over again because I think that I'd like to do an underwater scene. My creatures so far are kind of fantastic but mostly just frightening. I keep thinking of Bosch as I work on my animals, maybe I should think about an artist with cuddlier creatures? Hmmmm.... Any recommendations besides Nick Bantock?