I finally received a paycheque last week and to celebrate, I walked down Queen West and actually stopped at stores. I bought some tissue, some super cheap blank cards, and some on-sale chiyo from BeautifulPaperLand: The Retail Store, because it will be closed until after Canadian Thanksgiving. I'm a bit worried because there will be new owners and a new name. I have mocked certain chiyo designs and the people who buy envelope-liner templates with the new owner (who was previously the store's manager) but I'm still worried. I'm worried that BeautifulPaperLand: The Retail Store will become a scrapbooking store. I have nothing against scrapbooking except for the way the industry tries to stifle creativity but Toronto already has quite a few scrapbooking stores. And if BPL becomes a scrapbooking store, where will I buy the kozo on which I do my prints?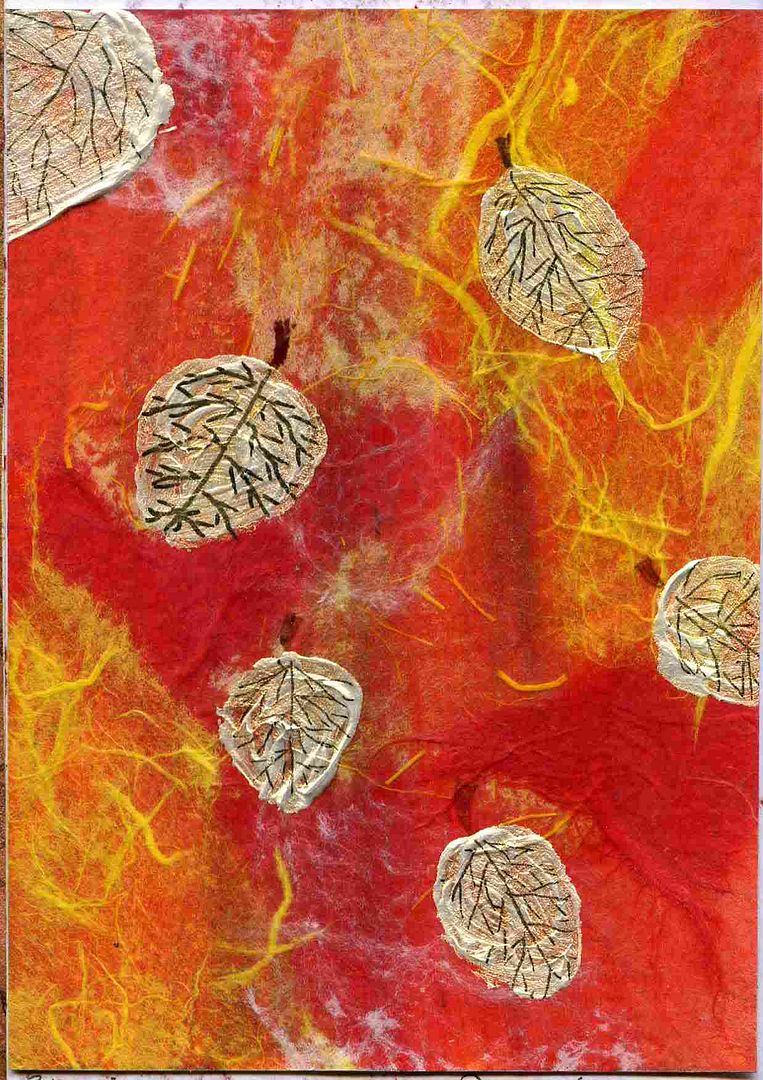 I also bought some yellow seed beeds because we owned none and then I went to Currys, where I bought a massive jar of matte gel medium, water colour paper, cover paper, and two tubes of interference paint.
To the left is a page in an autumn deco (If anyone out there wants to send me artistic autumn decos to art up, please drop me a line at untrou at gmail dot com. I love autumn!) I painted the background orange and then collaged torn bits of tissue paper all over the page. After that, I painted on leaves with gold interference paint. Once those had dried, I drew in the veins and the stems. I could get addicted to this stuff quickly. I'm going to go try the blue interference paint on a winter deco cover in a bit.