I spent yesterday making two of the three holiday gifts for which I signed up at the Circus. I also spent yesterday cursing adhesive and just about everything else. Yes, I can swear like a sailor when called upon to do so. No scans of yesterday's work yet, though. I know that the recipients never check the art journal but I have a feeling that as soon as a said what I'd made and posted pictures, one of them would stray over here. So not cool. If you're really curious you can drop me a line at untrou at gmail dot com and I'll send you a couple of pics.
In other news, Ptichka and I went to the One of a Kind Show here in Toronto. Sarah Jean (I think that's how you spell it) of Fresh Baked Goods promised in a mass email that the show was getting hipper. Ummm...kind of. It's not worth it unless you have a press pass, which we did. Fifteen bucks to gawk at mostly country stuff is so not worth it. There was some gorgeous jewelry (Ptichka bought the sweetest necklace from
here.
) and some painted ceramics from Québec that were so cute we sat on a bench and tried to come up with someone, anyone on our gift list to whom we could give a piece of it. No such luck, though.
We also finally bought our wedding anniversary gift. Since Ptichka was locked out when our actual wedding anniversary happened, we were low-key (a walk in the ravine and a nice piece of meat). We had talked about going out to dinner later or buying a piece of art. We finally decided to buy a piece of art. Ta da! Here it is. It's by a Toronto artist, Hillary Webb. She hand dyes the fabric and thread using only natural dyes. The hot pink is from crushed bugs from Mexico. We felt so adult buying art. I think that we're going to do it every year for our wedding anniversary.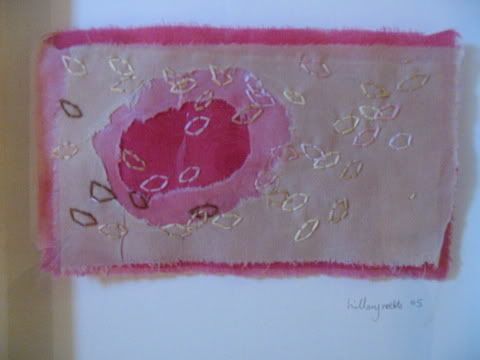 And since I'm posting crappy pictures of cool art we own, here's a shot of my modbird. He's currently hanging out on top of the television. We're going to get a nice shadowbox thingy and mount him over my work table. My mom, after asking what he's made of because he's so expensive (45 USD!), asked for one for Christmas. They're irresistible.