The first of my Christmas gifts has landed. I made this for
Maralena
and
Kelli.
It's a scrapboard book from
Making Memory Boxes.
I felt all accomplished. There's something about going from non-adhesive bindings to adhesive bindings that makes one feel like a real bookbinder. Yes, that's me: Real Bookbinder.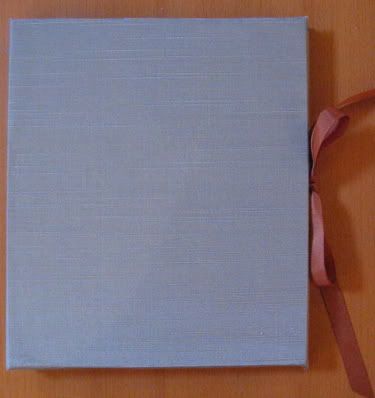 This is the book closed. Snazzy bookcloth from the PP. Ribbon from Mokuba.
The book open. Stripey chiyo from the PP (Where else?). This colour scheme isn't really my cup of tea but I was smitten by how rich it looked.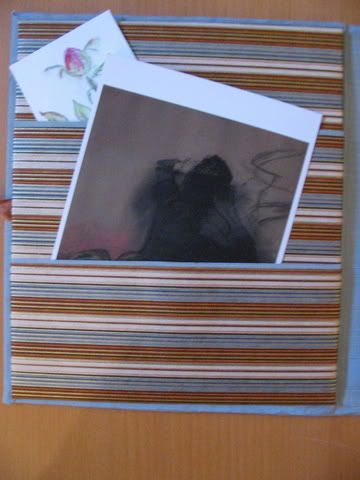 A close-up of the left-hand side. The ATC is by
An-su.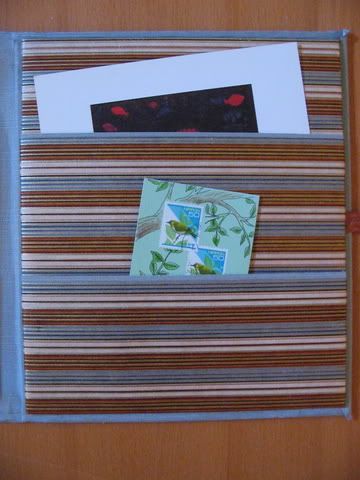 a close-up of the right-hand side. The ATC is by Kira. The postcard is of a fish by Paul Klee.
Thus begins my love-hate relationship with PVA. Ptichka and I just placed an order at the
Paper Source
for a tub of
PVA
and
methyl cellulose.
I'm very happy that I didn't see
this page
of waxed linen thread until after we had placed our order. Who doesn't want an exposed
pink binding?